Colliding in the Dark is a visual album by Dominik Baer comprised of 12 songs, 12 videos and 12 abstract paintings released over the course of 12 months in 2018.

This page contains exclusive content including stories, behind the scenes clips, lyrics and pictures to every one of the 12 songs.


Story
EN: Nauru is a small fleck of land in the big blue pacific. It is definitely worth a google search if you are into spellbinding stories. Nauru's tale is so full of intriguing characters and astonishing twists that it bears the quality of a fairy tale. When I first heard its story, I was flabbergasted. It struck me how unlikely and outlandish Nauru's history seemed. On closer inspection, I see the fable of Nauru everywhere. "Better before you tried to make you better." It is the story of paradise lost, the story of unfettered consumerism and exploitation, driven by the single biggest challenge our species faces: our own greed.
///

DE: Nauru ist ein im Pazifik kaum zu erkennender Klecks. Wenn man eine Schwäche für faszinierende Geschichten hat, lohnt sich auf jeden Fall eine Google-Suche dieses Namens. Denn die Geschichte Naurus ist überfüllt von geheimnisvollen Figuren und erstaunlichen Wendungen. Als ich sie zum ersten Mal hörte, hat es mich vom Hocker gehauen. Die Story wirkt auf mich wie eine Fabel… "Better before you tried to make you better". Es ist eine Geschichte über Konsum, über Ausnutzung und Gier. Sie scheint mir in unserer Zeit relevanter denn je.
STORY
EN: Sometimes it's all too much. Too many messages and emails. Too many people. Too many expectations and too many things to do. Our lives are grossly over- decorated. There's always somewhere to go and someone to be. It is a plastic, throwaway age and sometimes it's all too much.
///
DE: Manchmal ist alles einfach zu viel. Zu viele Nachrichten und Emails. Zu viele Menschen. Zu viele Erwartungen und zu viele to-dos. Unsere Zeit ist übersättigt und übermäßig ausgeschmückt. Man müsste immer eigentlich woanders sein und immer eigentlich jemanden anderen treffen. Es ist das Zeitalter des zu-viels.
Painting by Olive Green Anna
Painting by Olive Green Anna
ABOUT
EN: As the days grow darker, I go to darker places with my music. "Until You Grow Old" tells a tragic love story - from explosive, romantic beginnings to tumultuous twists and turns, culminating in a rough and fearful ending. I am not sure why I wrote this song. Thankfully, it is not and hopefully will never be autobiographical. Sometimes artists need to find an expression for their greatest fears and I suppose it is something like that. I heard a version of this story while I was eavesdropping on two women in a cafe. The subject matter seemed so raw and universal that I was compelled to write about it. "Until You Grow Old" has been part of my live set for a number of years without ever making it onto a record. So here it is.
///
DE: Der dunkle Winter naht und so nehme ich euch mit an einen dunklen Ort. Fulminante Anfänge mit großen Versprechen - viele auf und abs - bis hin zu einem schmerz-verzerrten Ende: "Until You Grow Old" erzählt eine Liebesgeschichte wie viele sie erleben. Ehrlicherweise kann ich nicht genau erklären warum ich zu diesem Song inspiriert wurde. Zum Glück ist er nicht autobiografisch und so soll das auch bleiben… Manchmal werden die größten Ängste und Unsicherheiten zum Thema der eigenen Kunst und so ist das wohl irgendwie mit diesem Song. Die Geschichte die hier erzählt wird überhörte ich vor vielen Jahren in einem Cafe, als ich einem Gespräch lauschte. "Until You Grow Old" spiele ich schon seit mehreren Jahren live und nun schafft der Song es auch endlich auf eine Platte.
About
EN: Rome. Late. Giddy with touristic excitement I am eager to drink in all vibrant impressions. The evening, laced with exquisite Italian wine, has put me into an unusually communicative mood. When in Rome, don't talk about the mafia, right? But the wine has given me newfound courage and I find myself chatting up the ageing seller who is fixing a late night panini featuring some of the most delectable salami ever to grace my lips. I don't remember much of our conversation except for this: "You know, the problem here is not the mafia. The problem is that the mafia has made its way into our heads." I have reflected much on the man's words. So here is a song in honour of all our neuroses, an ode to the lies we feed ourselves and the reality we construct in the confines of our own minds.

///
DE: In Rom. Spät. Der Rotwein hat mich gesprächig gestimmt und ich begebe mich auf die Suche nach dem besten Panini. Der ältere Mann hinter der Theke lässt sich auf meine Redseligkeit ein. Ganz offensichtlich ist mein Urteilsvermögen zur späten Stunde gestört und so spreche ich kurzerhand das Tabuthema "Mafia" an. Ich kann mich an das weitere Gespräch nur bedingt erinnern. Nur ein Satz des Alten geht mir nicht mehr aus dem Sinn: "Weißt du, das Problem bei uns ist nicht, dass es die Mafia gibt - das Problem ist, dass sich die Mafia in unsere Köpfe geschlichen hat." Dieser Satz hat mich nachdenken lassen. Hier ist nun also ein Song zu Ehren der Neurosen, Psychosen und Lügen die in unseren Gedanken leben.
Mafiaaa by Olive Green Anna
8. Woven Baskets (Summerscape #2)
About
ENGLISH: When you think of Germany, do you think of beautiful, sunny beaches? I never did. So when I first discovered Germany's northern coast a few years ago I was astonished by its beauty. It was delightful to be surprised by something so magnificent, the existence of which I had never imagined. That was the inspiration for this song. This happens to us all the time in relationships. You think you know all there is to know about somebody and then they surprise you with…. Relationships are engaging when you come across something you hadn't yet known - like peeling away layers. Of course, not every discovery is an enjoyable one - and there are other songs for such times. "Woven Baskets", however, is about the special, postively incredible moments - with salty air and a seagull gliding through a bold blue sky.
///
DEUTSCH: Wenn du an Deutschland denkst - denkst du dann an sonnige Strände? Ich nicht. Als ich also zum ersten Mal die Nordseeküste entdeckte war ich sprachlos. Es war eine fabelhafte, atemberaubende Überraschung, die ich mir nie so hätte vorstellen können. Sie inspirierte diesen Song. Etwas ähnliches passiert uns auch in Beziehungen. Man meint, die/den Andere(n) sehr gut zu kennen, doch dann überraschen sie/er einen mit etwas unvorhergesehnem…. Beziehungen sind besonders spannend, wenn man Neues entdecken darf. "Woven Baskets" erzählt von diesen besonderen Momenten - mit Seebrise, Möwen und ein endlos blauer Himmel.
Woven Baskets by Olive Green Anna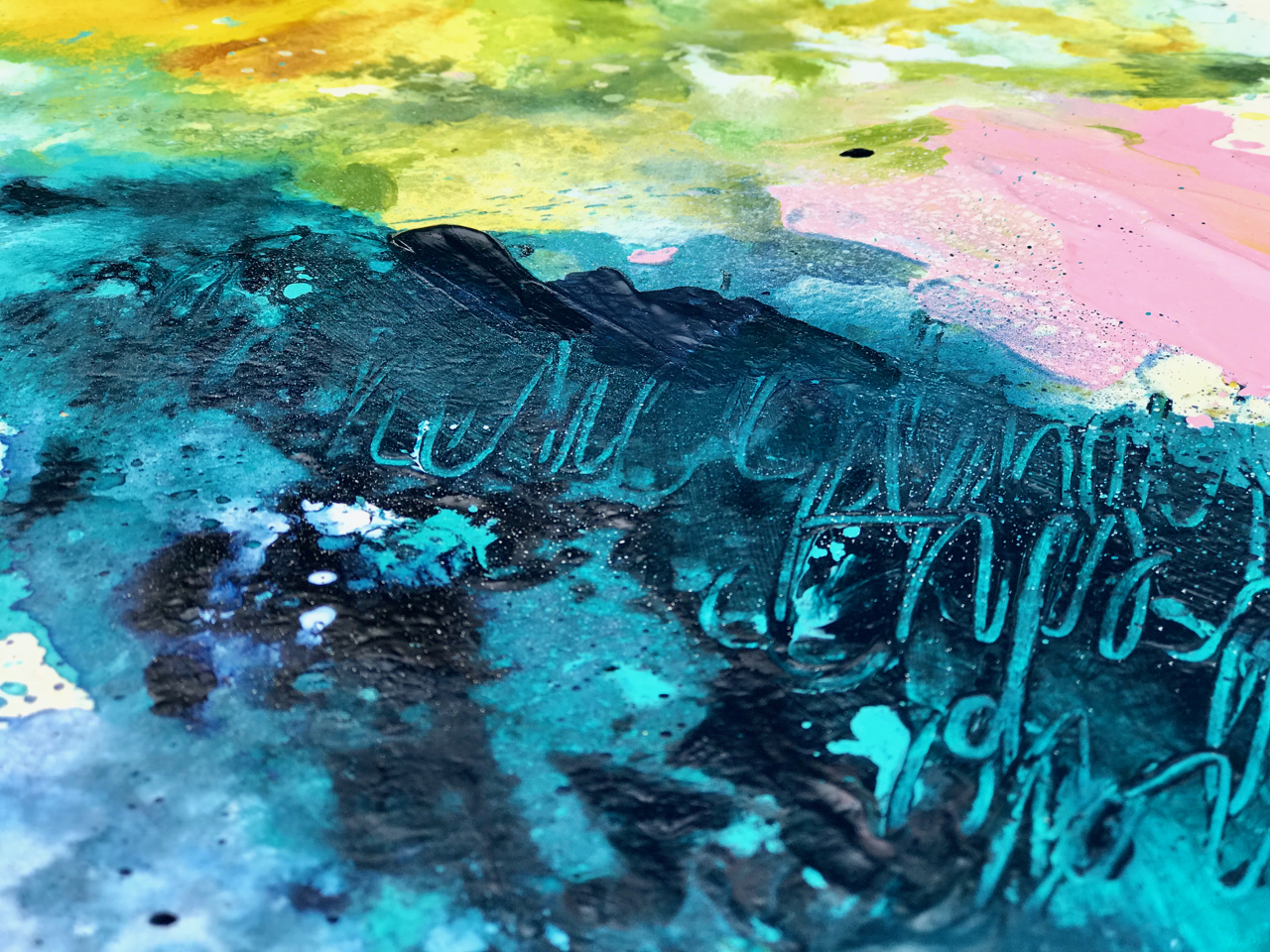 7. Tiny Trails (Summerscape #1)
Tiny Trails by Olive Green Anna
About
ENGLISH: There is nothing like discovering a beautiful place, especially if you are simultaneously discovering a beautiful person. There are so many tiny trails to discover that you can get los over and over again. On our road trip through Scotland, which is now quite some years back, Olive Green Anna and I did just that. In the song, I wanted to capture some of the lightness and beauty of free, honest and open and enjoyable discovery.
///
DEUTSCH: Es geht nichts darüber, einen wunderschönen Ort zu entdecken - vor allem wenn du zeitgleich einen wunderschönen neuen Menschen entdecken darfst. Man kann Stunden lang neue "tiny trails", kleine Pfade/Wege entdecken und sich darin verlieren. Während unserer Reise durch Schottland haben Olive Green Anna und ich genau diese Erfahrung gemacht. In dem Song möchte ich die unbeschwerte Schönheit des Entdeckens einfangen.
Tiny trails winding round - rolling hills, absent crowds... we drive down for hours.
About
ENGLISH: One of my biggest goals in life is to have an interesting one. I usually value experiences over possessions - part of the reason I decided to do music full-time. But of course, life is not always one big party and I often have moments of feeling trapped by one thing or another: obligations, relationships, places or finances. Invariably, I begin devising a scheme to break out of the prison I find myself in and start digging my new escape tunnel. Here are a few things I have learned
Sometimes I can't tell if I am running away from or towards something.

Movement breeds opportunity and generates rich experiences.

I value being in motion more than reaching a goal.
Possibly, being in motion is the goal in and of itself
///
DEUTSCH: Eines meiner Lebensziele ist es, ein möglichst interessantes Leben zu führen. Mir sind Erfahrungen wichtiger als Besitz - mit einer der Gründe warum ich mich entschieden habe, vollzeit Musik zu machen. Doch ist das Leben nicht immer nur eine große Fete und so komme ich immer wieder an Stellen, an denen ich mich wie gefangen fühle. Gefangen von Verantwortung, Beziehungen, Orten oder Finanzen. Und schon fange ich an an einem neuen Plan zu schmieden, um aus diesem Gefängnis auszubrechen. Ich fange an einen Tunnel zu graben. Folgendes habe ich dabei gelernt:
Manchmal bin ich mir nicht sicher ob ich renne um mich von etwas zu entfernen oder näher zu kommen

Bewegung bringt neue und außergewöhnliche Gelegenheiten mit sich.

Mir ist es wichtiger in Bewegung zu sein als mein Ziel zu erreichen.
Vielleicht ist die Bewegung sogar das eigentliche Ziel.
"I just know that I have got to feel like moving"
"The Escape" by Olive Green Anna
"The Equation" Painting by Olive Green Anna
About
ENGLISH: We have all experienced them - those moments, that carry a kind of freedom and lightness. It's just you, the open road, trees and fields scrolling by: "…aluminum on wheels: the fastest way to shake anxiety…" There's nothing to weigh you down - a sense of adventure and fulfilment - and time does this strange thing where it bends back and goes slow for a little.
Simplifying. There is something amazingly therapeutical about weeding out excess in life, and going back to the basics. A road trip with only our most treasured belongings in van through Spain last year helped us to realize we can live on very little. This song is an ode to minimalism.
///
DEUTSCH: Alle kennen wir sie - diese Momente, die Freiheit und Leichtigkeit mit sich tragen. Du bist alleine - vor dir erstreckt sich eine offene Straße, Bäume und Felder rauschen an dir vorbei. "Aluminium auf Rädern - so schüttele ich mir die Sorgen vom Leib…" Hier gibt es nichts, was dich schwer macht, ein Gefühl des Abenteuers und der Genügsamkeit. Und dann biegt sich auch noch die Zeit und wird kurz langsamer. Vereinfachen. Es ist heilsam, das Überflüssige im Leben auszumisten. Zurück zu den wichtigsten Dingen. Im letzten Jahr waren wir 2 Monate mit Bus in Spanien unterwegs. In dieser Zeit wurde mir klar wie wenig ich eigentlich zum Leben brauch. Dieser Song ist eine Ode auf den Minimalismus.
"Turns out: simpler equations have simpler solutions.
So I'm spending some time simplifying, because simple is what I want to do."
ABOUt
ENGLISH: "Bright Red Dot" features my wife Anna telling her experience of a miscarriage. The chaotic angel of death visits and we are left powerless and confused, a hollow "why?" ringing like tinnitus. I remember having to leave her bereft in the hospital bed - driving home in the dark to spend the night at home - alone. This song and the accompanying video (being released in a months time) is therapy. I wrestled intensely with this composition, constantly doubting it's relevance and validity - it interweaves both beauty and destruction, joy and pain. You may benefit from closing your eyes for a few minutes and letting this one take you on a journey.
///
DEUTSCH: In "Bright Red Dot" erzählt meine Frau Anna ihr schmerzhaftes Erleben einer Fehlgeburt. Der Engel des Todes kommt in der Nacht, hinterlässt Schmerz und Verzweiflung. "Warum?" - die Frage fiept wie ein Tinnitus. Ich kann mich noch gut an die Fahrt nach Hause erinnern: Anna im Krankenhaus - ich alleine Zuhause - im Dunkeln. Dieser Song & das kommende Video sind unsere Therapie. "Bright Red Dot" - der Song wird dich vielleicht überraschen und deine Hörgewohnheit womöglich herausfordern. Schönheit und Zerstörung, Chaos und Schmerz verschmelzen und machen es mehr zu einem Hörerlebnis, als zu einem Song im engeren Sinne. Lange habe ich mit der Komposition und dem Arrangement gehadert, doch hier ist er nun - vielleicht lohnt es sich die Augen zu schließen und sich so für drei Minuten ganz auf das musikalische Erlebnis und unsere Geschichte einzulassen.
LYRICS
ABOUT
ENGLISH
For "Spinning Out" I worked with my old friend, the wonderful videographer David Hoppe (www.davidhoppe.info) and his talented girlfriend Alyson Taylor Inouye (twitter.com/aloeverasol) who directed the film. We had toooooo much fun working on this one, from driving around for hours looking for monochrome buildings as backdrops for our two-dimensional asthetic, to spraypainting fruit in my in-laws back yard - this truly was a project where we allowed ourselves to go absolutely overboard with our creativity.
The song is a bit of a contrast to my last single "Fall". I have always been somebody that loves creating in more than one sound or style. I hope this light, happy tune can be lead you straight into sunnier spring weather! Enjoy and reply to this email to let me know what this song makes you think and feel!
Lyrics
ABOUT
ENGLISH
Watching my one-year old son Vigo take his first steps last week was amazing, but I've seen him do a lot more falling than walking. We all fall, of course. We make mistakes. We fail at one point or another - we fall: in our careers, in our relationships or quite literally face-planting while trying to get off a motorbike (don't ask).But we also know that failure can be our best teacher. Einstein, Churchill, Beethoven, J.K. Rowling - these people all knew what it meant to fail. Many times. But they kept getting up. Lately, I have been inspired by the idea of FAILING FAST in order to grow and improve faster!
DEUTSCH
In der vergangenen Woche habe ich die ersten Schritte meines 1-jährigen Sohnes Vigo beobachtet. Das war wunderschön, besonders weil ich ihn bisher viel mehr beim Fallen beobachtet habe als beim Laufen. Natürlich fallen wir alle immer wieder. Wir machen Fehler, wir scheitern auf verschiedenste Weise: im Job, in Beziehungen, oder manchmal wortwörtlich. Wir wissen aber auch, dass uns das Scheitern weiterbringen kann. Einstein, Churchill, Beethoven, J.K. Rowling - diese Menschen wussten alle was es heißt zu scheitern. Oft zu scheitern. Aber sie sind immer wieder aufgestanden. In letzter Zeit inspiriert mich der Gedanke, SCHNELL zu SCHEITERN, um dadurch schnelleres Wachstum zu ermöglichen .
Behind the Painting
ABOUT
ENGLISH
An alpine glacier kicks of my musical adventure this year! For Colliding In The Dark, we went all out! I took a crew of 10 people (my band & a technical crew) to Val Senales, which is in the north of Italy. It was rough to work at such an altitude and there was more than once we got lucky with the weather. I have never had so much fun and simultaneously been so challenged while producing a film.
Directed and edited by Dennis Gleiss (www.internauten.space)
Costume Design by Katharina Andes (www.katharina-andes.com)