In the Dark / Im Dunkeln
We had a very exciting show last week, which I'd like to share with you... As part of a series of concerts labeled "Kultur im Dunkeln" (culture in the dark), there is a school for the blind nearby that organizes concerts which take place entirely in a dark room. It was quite an amazing (and challenging) experience to play an entire 2-hour show without being able to see any of your instruments, band members or audience!!! We will never forget it!
Click through the photos below to get an idea of our evening...
Ich will euch über ein sehr besonderes Konzert berichten, dass wir letzte Woche erleben durften. Als Teil der Reihe "Kultur im Dunkeln", veranstaltet die Schlossschule Ilvesheim (Schule für Blinde und Sehbehinderte) alle paar Monate Konzerte, die in einem komplett abgedunkelten Raum stattfinden. Es war extrem spannend und herausfordernd ein ganzes Konzert zu spielen, ohne dabei sein Instrument, seine Bandmitglieder oder sein Publikum zu sehen!
Klickt euch einfach durch die Bilder unten...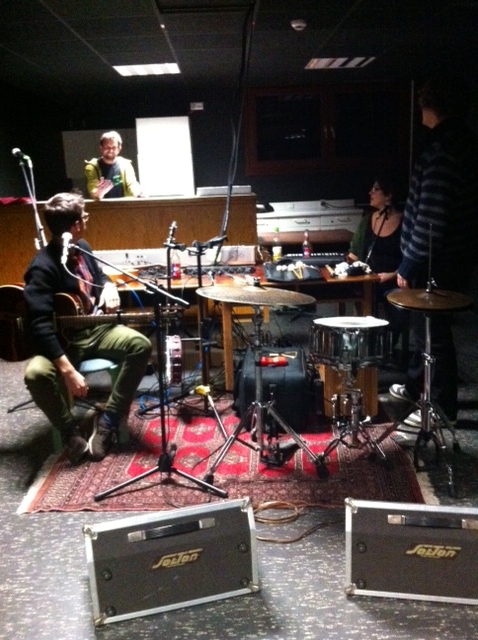 Set-up
Our set-up was drastically different from a normal show. Drums were up front and a table was placed right in the middle of us musicians, to help us orientate ourselves and in order for us to find instruments when switching between songs.
///
Unser Aufbau war ganz anders als sonst. Die drums waren nun vorne und in unserer Mitte wurde ein Tisch platziert um uns einerseits mit der Orientierung im Dunkeln zu helfen, andererseits damit wir unsere Instrumente ablegen und auch gut wiederfinden würden.
Blind Bass
Without our bassist on this night, Freddie had to learn all the bass parts with his eyes closed - he did a great job.
///
Ohne unseren Bassisten Matze an dem Abend musste Freddie auch noch blind die Bassparts spielen - hat er gut gemacht!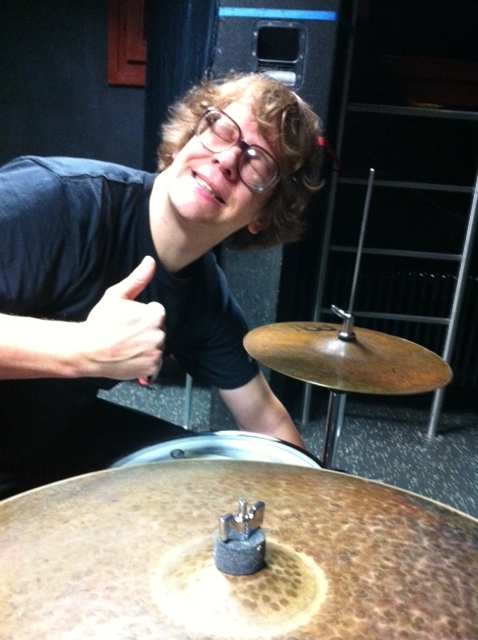 Thomas is ready...
Thomas practices playing in the dark. (You don't need those glasses, buddy...)
///
Thomas übt nochmal, ohne hinzusehen das Schlagzeug zu treffen. Die Brille ist wohl überflüssig...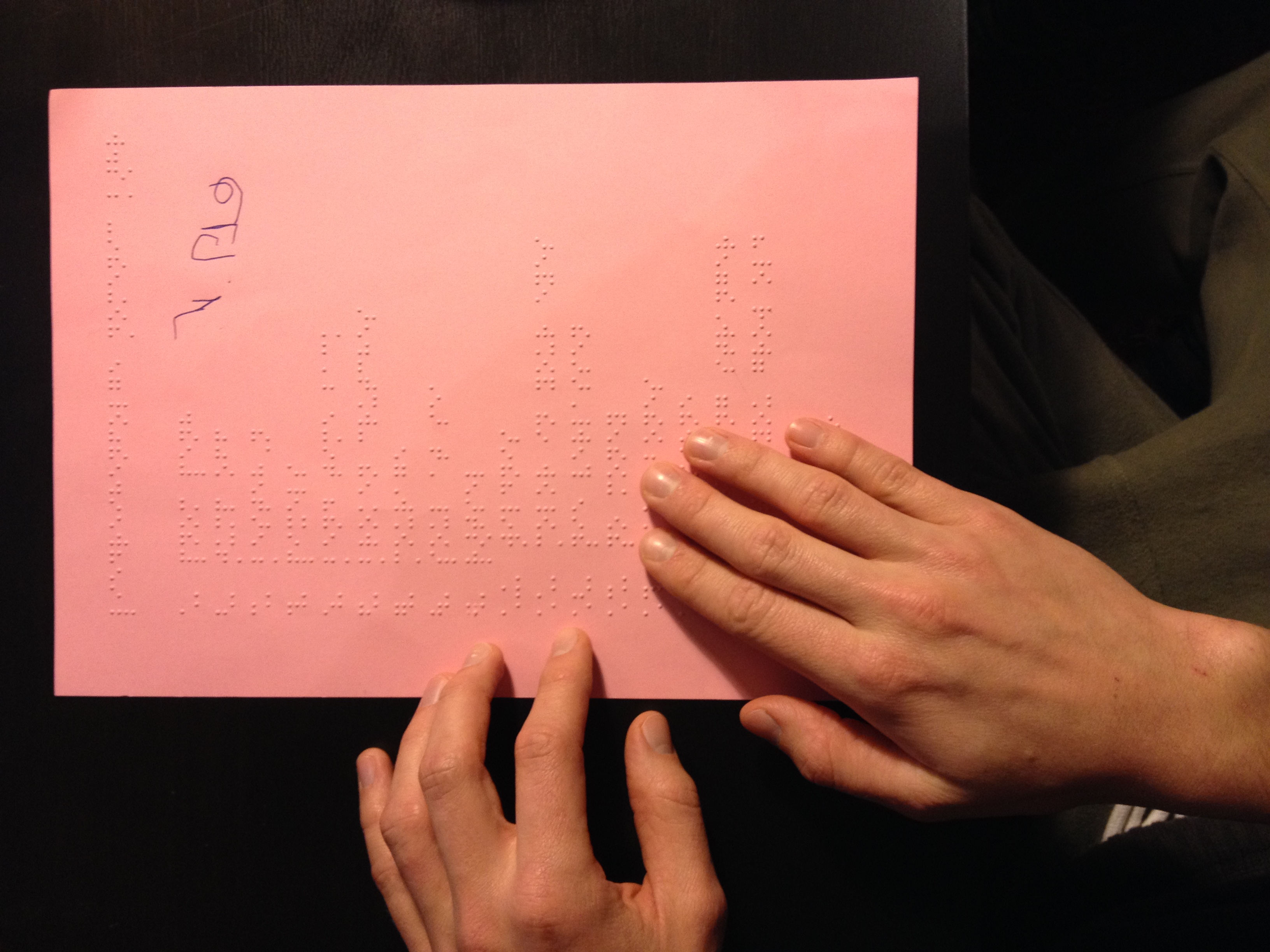 Braille Setlist
One of the blind students typed up our set-list in braille. During the show, she would read us which song we should play next.
///
Eine der blinden Schülerinnen tippte uns die setliste in Blindenschrift ab, so dass sie uns während dem Konzert immer wieder bescheid geben konnte, was wir als nächstes spielen sollten.
Here we go...
The show begins - several blind students lead each guest to his place in the room. We are led in last... getting nervous at this point.
///
Konzertbeginn... zuerst wird das Publikum einzeln von den sehbehinderten Schülern der "Konzert im Dunkeln" AG an ihre Plätze geführt. Wir kommen zuletzt in den Raum.
Playing blind
When you play guitar but can't see sh**, you make more mistakes! Also, you start hearing much more intensively. It was weird to gauge the audiences appreciation based solely on their applause.
///
Wenn man blind Gitarre spielt, greift man öfter mal daneben! Außerdem fängt man an anders zu hören. Wir mussten versuchen, allein vom Applaus des Publikums einzuschätzen, wie es ihnen gerade ging.
A Broken String
I broke a string in the middle of the show and had to be led out of the room in order to change it. In the meantime, my band entertained the crowd. When I came back, everyone was singing "Last Christmas" at the top of their lungs!
///
Ausgerechnet heute reißt mir eine Saite auf der Gitarre - ich musste aus dem Raum geführt werden um eine neue Saite aufzuziehen, während meine Band die Leute unterhielt - als ich zurück kam spielten sie gerade "Last Christmas" und alle sangen mit!
Conversation in the dark
We talked a lot between songs, explaining what we were doing, having people guess things like: How many are we? What instruments are we playing? And the funniest question of the night: What does Dominik look like?
///
Wir haben zwischen den Songs viel gesprochen und den Zuhörern Fragen gestellt, z.B: Wie viele Musiker sind wir überhaupt? Was für Instrumente spielen wir? Und die interessanteste Frage, die für viel Erheiterung sorgte: Wie sieht eigentlich Dominik Bär aus?
My pink leopard-skin suit
I never had the courage to do this, but decided tonight was finally the night: I wore my pink leopard-skin suit with a cowboy hat to the show. Here's me dancing on the table to kick off the night. People loved it!
///
In meinem knall-pinken Leopardenanzug und Cowboyhut tanze ich zu beginn des Konzerts auf dem Tisch. Die Leute haben es gefeiert!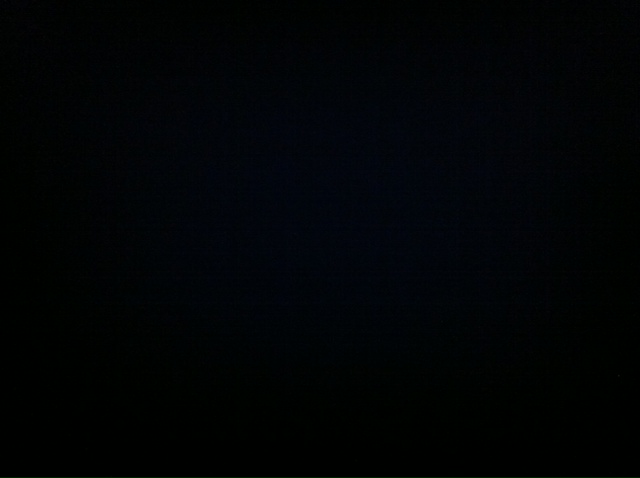 Don't do it at home, kids!
I think this picture is self-explanatory. Please do not try at home.
///
Ich glaube zu diesem Bild muss ich nichts sagen. Bitte macht das nicht nach!
After the show
After the show, everybody was happy, and people were surprised to see what I actually looked like! Thank you so much to Gunter and the "Kultur im Dunkeln" club for a wonderful night! On this picture you can also see our special aid, Kerstin who wrote our setlist in braille and read it to us during the show!
///
Am Ende des Abends herrschte ausgelassene Stimmung. Danke nochmal an Gunter und die "Kultur im Dunkeln" AG die uns so einen unvergesslichen Abend beschert hat. Auf diesem Bild ist auch noch Kerstin, die Set-Souffleuse zu sehen, die unsere Setliste in Blindenschrift geschrieben hatte.
Here's the newspaper article, for anyone interested...
Für alle Interessierte ist unten noch der Zeitungsartikel zu dem Abend.